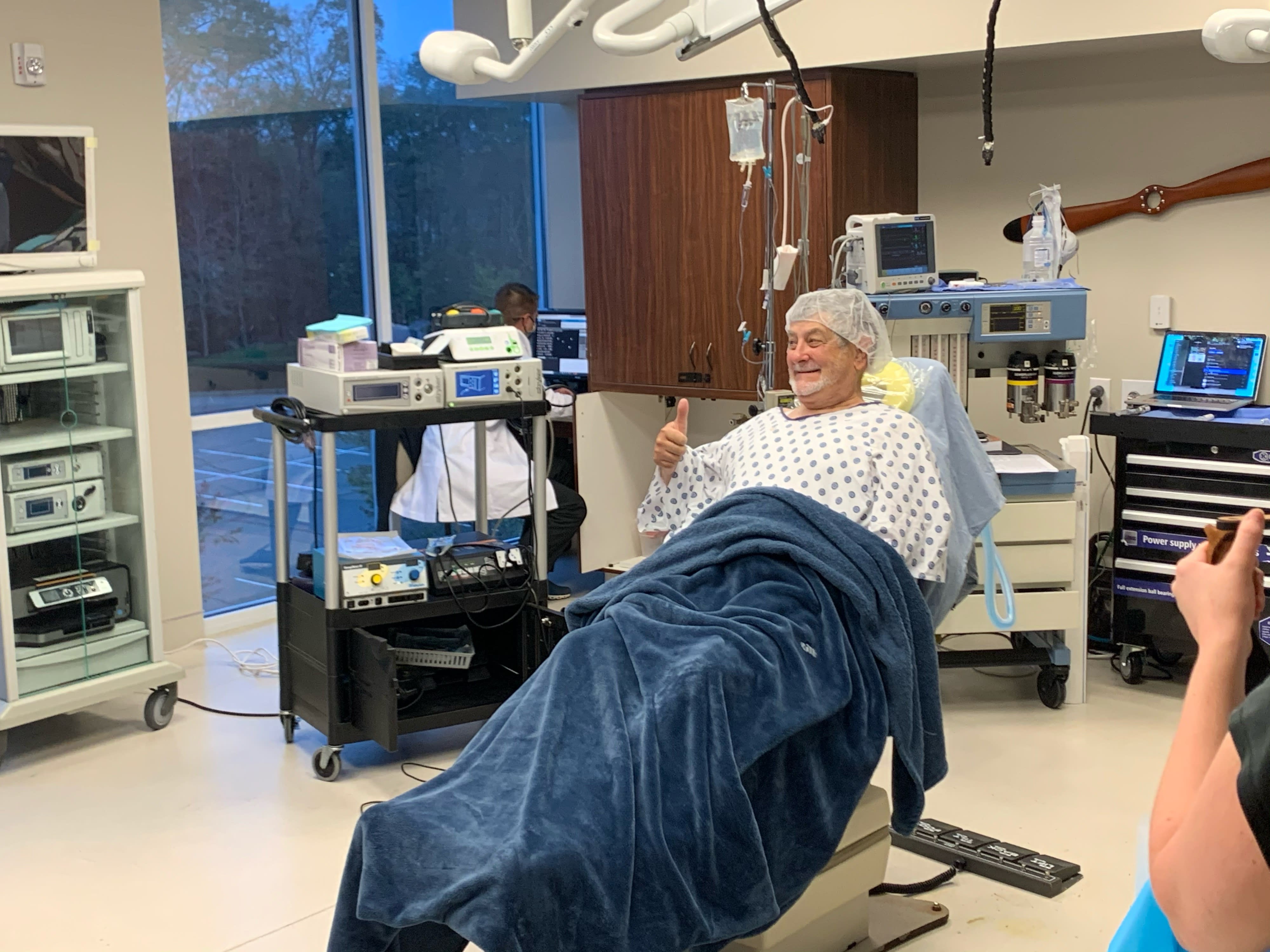 SUPPORTING OUR MILITARY AND VETERANS, TWO SMILES AT A TIME
The team at Carolinas Center for Oral & Facial Surgery is proud to support our nation's military and veterans with its new Smiles For Soldiers program. This year we selected two recipients to receive a life-changing smile makeover: Raymond, 72, from North Carolina and Scott, 32, from South Carolina.
Raymond is a Vietnam Veteran who received a Bronze Star with Valor and was awarded a Purple Heart for his time spent in combat. While in Vietnam, he had abscesses in his mouth caused by bamboo constantly hitting him. To relieve the pressure and abscess, a dentist drilled behind his teeth. In 2005 the VA pulled his remaining teeth, but he was not eligible for implants and his dentures never fit correctly due to prolonged bone loss. In his application, he said he wanted this smile makeover because it would allow him to "smile and eat healthy."
Scott served in the Army National Guard for 9 years and spent 15 months in Afghanistan. While in Afghanistan, his squad of 16 was hit by a suicide bomber. Three members of the squad were killed and five were wounded. In addition, nearly 70 Afghan civilians were killed or wounded in the attack. The attack is believed to be the bloodiest day in South Carolina National Guard history, and Scott suffered from PTSD after living through the attack. It has taken him 8 years to work through the pain, and he continues to do so for his children. Dental issues have been a long-standing problem for Scott, as he never developed any permanent teeth and has worn dentures since the fourth grade. Now a firefighter, Scott wrote in his application that having his smile restored was "important to me not only to be able to eat properly, which in return would help me live a healthy lifestyle, but it's also important to me because I have three small children that look up to me and I know they love me either way but I don't want them to always see me struggle with dental problems."
THE FULL-ARCH RESTORATION PROCEDURE
Raymond and Scott will each receive a full-arch procedure. This procedure gives patients who are missing most or all of their teeth a permanent solution that completely restores their smile. This full-arch dental implant solution means regaining the freedom to smile, eating favorite foods, and finding relief from the pain caused by missing or failing teeth—all in a single day.
Stay tuned to this page, Facebook, and Instagram to follow Raymond and Scott's paths to a new smile!
Learn more about dental implants and full-arch restoration to see how they can improve your oral health and confidence. Whether you need to replace one tooth or an entire arch of teeth, our team has a solution for you.